05.30.23
2 days ago (earlier this month an RSS feed was added for the updates page):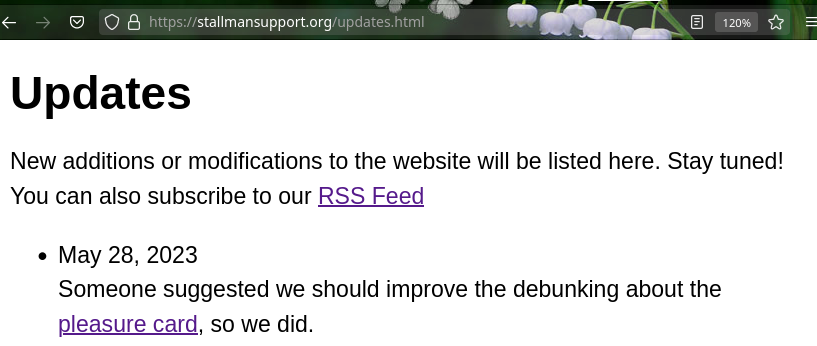 Summary: A new and more detailed explanation of what the wordplay around "pleasure card" actually meant
The dichotomy of "business vs. pleasure" is well known. Given Stallman's inclination to play with words and even change the name of things to either oppose or mock established concepts, we believe that's one reason why he chose to call it a "pleasure card" instead of the conventional "business card." And if we look at his lifelong activism for software freedom and other human rights, a second obvious reason is that he has never thought of making money as a main purpose of his life.
Handing out cards to those we wish to keep in contact with is normal and a better practice than asking for people's phone number or email address. It's better because it avoids pressuring the receiver. Traditionally, a man asked a woman how to contact her, which could make her feel pressured. Stallman avoids that. In case a woman is not interested in further conversations, she can reject the card, take it and throw it away, or chose to never phone or email him.
However, what some people complain about is not that Stallman hands out this card or how he calls it, it's the wording in it. That wording is the result of Stallman's inclination to playfulness. It's recursive humor, something that hackers like. It's recursive in that it is an example of what the card itself says: "unusual sense of humour."
Even though Stallman hands out these cards to men and women alike, some women take it as highly offensive, to the point of describing it as "sexual harassment." For the sake of advancing sensible thinking, intellectual honesty, and fairness towards victims of real sexual harassment, let's stop hyperbolizing and recognize that it's not anything near "sexual harassment."
We don't know which precise words some women find offensive. We suspect it could be the expression "tender embraces" and/or the word "exotic." There is a wave a new puritans who seem to think that it is disgusting for people to admit they wish to find a romantic relationship, except perhaps when hidden in some dating website or app.
A "tender embrace" is a hug which expresses a feeling of warmth and caring, it does not normally refer to sex. With the level of exaggeration fueled by the new puritans we are witnessing these days, one cannot avoid wondering: if Stallman had started the Free Hugs Campaign, would he be accused of "sexual harassment" for that as well?
As for "exotic," Stallman uses the word as a qualifier for music and dance. If we look at Stallman's preferences in these two fields, we can see that most—if not all—of the music and dance he likes is foreign and mostly unknown in the U.S., which fits the dictionary definition: "From another part of the world."
Margarita Lacabe, a not sexual girlfriend of Stallman's from the 80s, gives testimony of how he would share his music with her and dance: "He had me over to his place to listen to Indonesian music (or something of the sort), while he danced…"
Fortunately though, not all women feel that Stallman's cards are "meant to be sexual come ons." Some even appreciate the sense of humor in them.
Here's an ironic meme depicting the dangers of the card, and Richard Stallman dancing with a robot in his Bulgarian custom at MIT in the 70s. (Source)
And here is Stallman again performing a traditional dance with a member of the Yale Political Union who doesn't look to have taken offense. (Source). █